Working From Home (WFH) In The Time of Coronavirus
As we all step through the looking glass into a world where restaurants are take-out only, schools are closed, and countries are locked down, we are redefining what "work" means. Russell Research has been tracking workers perceptions of the newly mandated WFH (Working From Home).
Over the past two weeks, the Russell COVID-19 Monitor has included surveys among over 2,000 Americans about their perceptions of working from home. We interviewed 506 Americans who work full or part time at a company workplace or an office. These interviews were collected between Friday, March 13th and Sunday March 15th. And yes, it feels like a lifetime ago to us as well.
Setting the Context
Half (50.4%) of the 506 Americans interviewed work in a company workplace or office building.  At that point in time, only 28% were required or recommended to WFH and the majority (56%) were required or recommended that they work from the office. We ask how often they regularly work from home and 59% percent reported "Never."
Most Americans expected to still be working at their company's workplace or office on this past Monday, March 16th (52%). We have heard continually that the stock market does not like uncertainty and 22% of these workers reported that the decision to work in the office or at home "is still up in the air."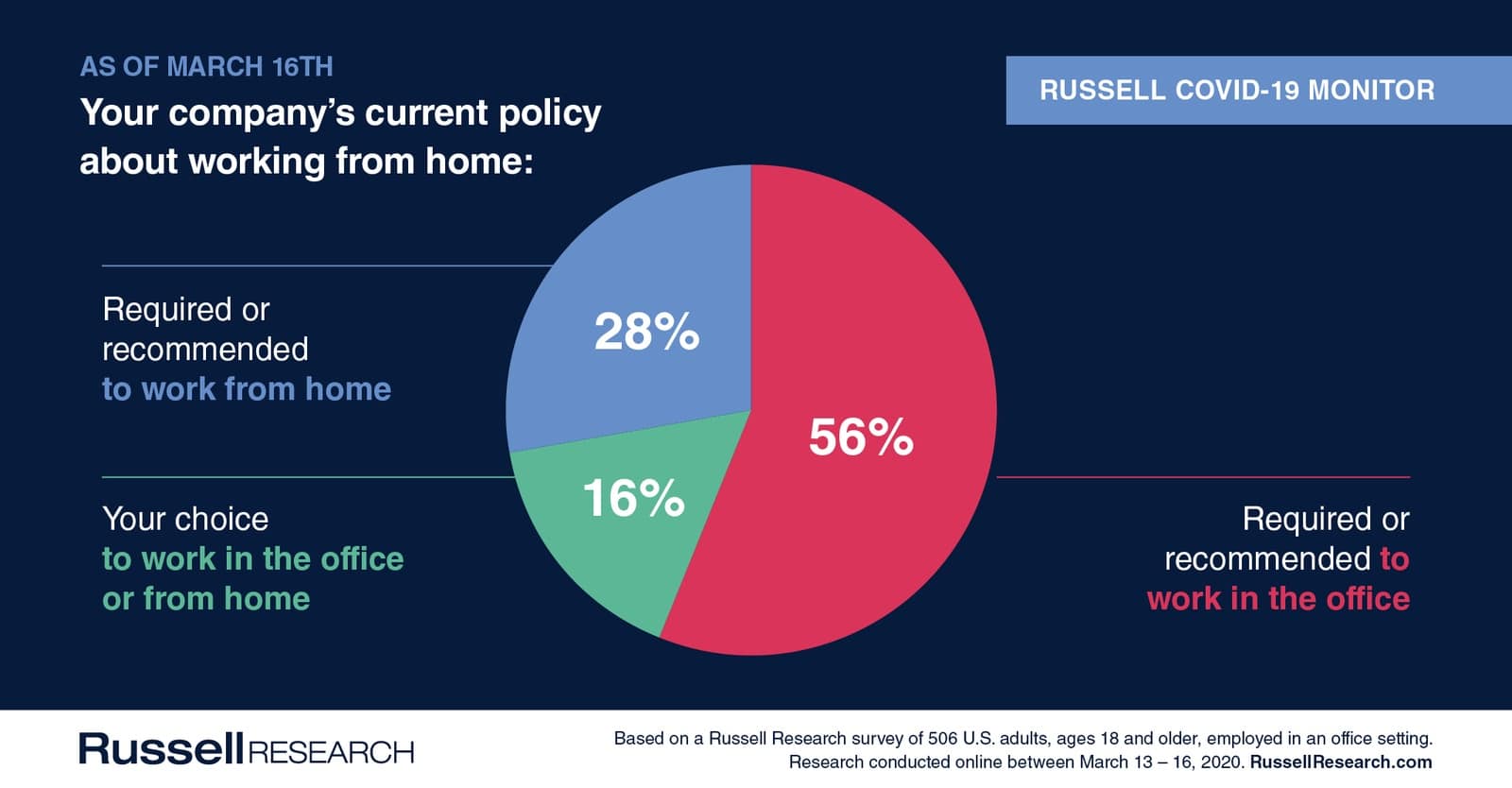 28 % – Work From Home (required or recommended)
16 % – We have the choice of working in the office or working from home
56 % – Work In The Office (required or recommended)
Business is About Feelings
One of the objectives of this ongoing study is to document shifts in Americans' attitudes around work. The impact of "social distancing" on the work environment is unprecedented and may have a long lasting impact on how companies conduct business. Now matter what industry, technology, or business model, business is made up of people.
For those Americans who work on-site or in an office, we asked how they felt about their company's current policy about working from home. There was optimism, a little bit of anger, and more than a little confusion.
Some examples:
I feel great that our company is constantly monitoring statuses and working so that everyone feels safe
I wish they'd let us work from home because social distancing is important
In fine with it. This whole thing is extremely overrated
I'm glad I have the choice. I can make my decision day by day as things progress
Expectations Around Working From Home
The biggest single benefit people expected was "avoiding the commute," followed be the ability to "wear whatever you want," and an expected lower level of stress.
48 % – Difficulty focusing on work
31 % – More difficult to prioritize work
30 % – Constant interruptions
25 % – Require coworkers' input to complete work
23 % – Loneliness without coworkers
20 % – The mayhem at home
16 % – Working too much
10 % – Lack of support and encouragement from my supervisor
8 % – Free coffee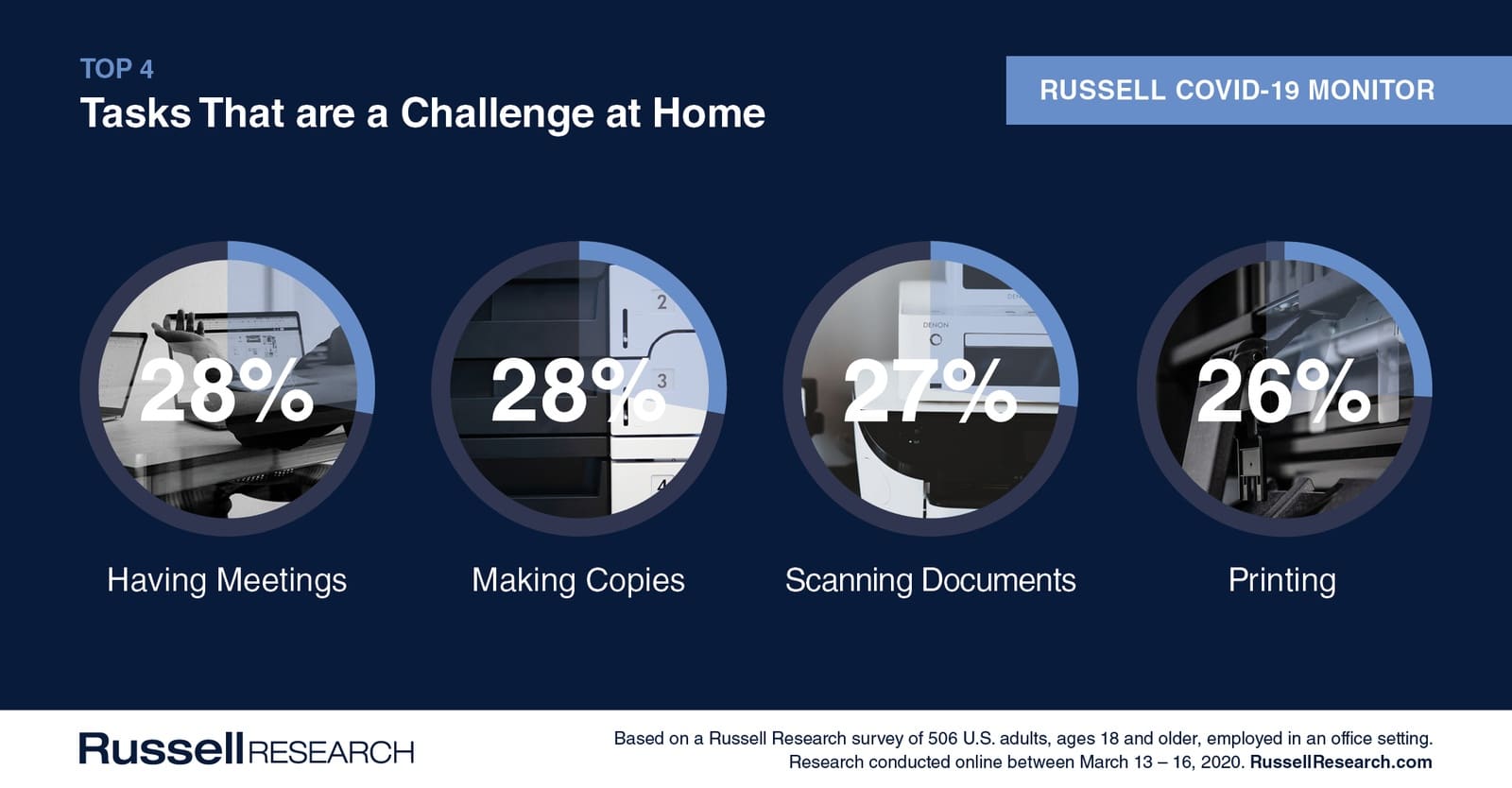 28 % – Having meetings
28 % – Making copies
13 % – Working on a computer
12 % – Having a conference call
There was moderate concern about being able to complete tasks that are simple to do in an office, but may be challenging to do at home. When we were asking Americans this, most were still able to work in their office. They reported that having meetings and making copies as the top two task that would be difficult at home.
28 % – Having meetings
28 %- Making copies
27 % – Scanning documents
26 % – Printing
25 % – Accessing old files
20 % – Rerouting calls to a coworker
20 % – Using programs which require significant computer speed and/or memory
17 % – Restocking office supplies
14 % – Answering the phone
13 % – Working on a computer
12% – Having a conference call