Working From Home (WFH) In The Time of Coronavirus – March 28, 2020
Our Expectations Have Changed Since We Started WFH
The majority (51%) of the 428 Americans surveyed who typically work at a company owned workplace or office are now working from home, nearly double the number who were working from home just one week ago.
While half of Americans expected to be working onsite on Monday, March 23rd (52%), only 31% expect to be working onsite on Monday, March 30th. And for the remaining 18%, where they will be working is still up in the air.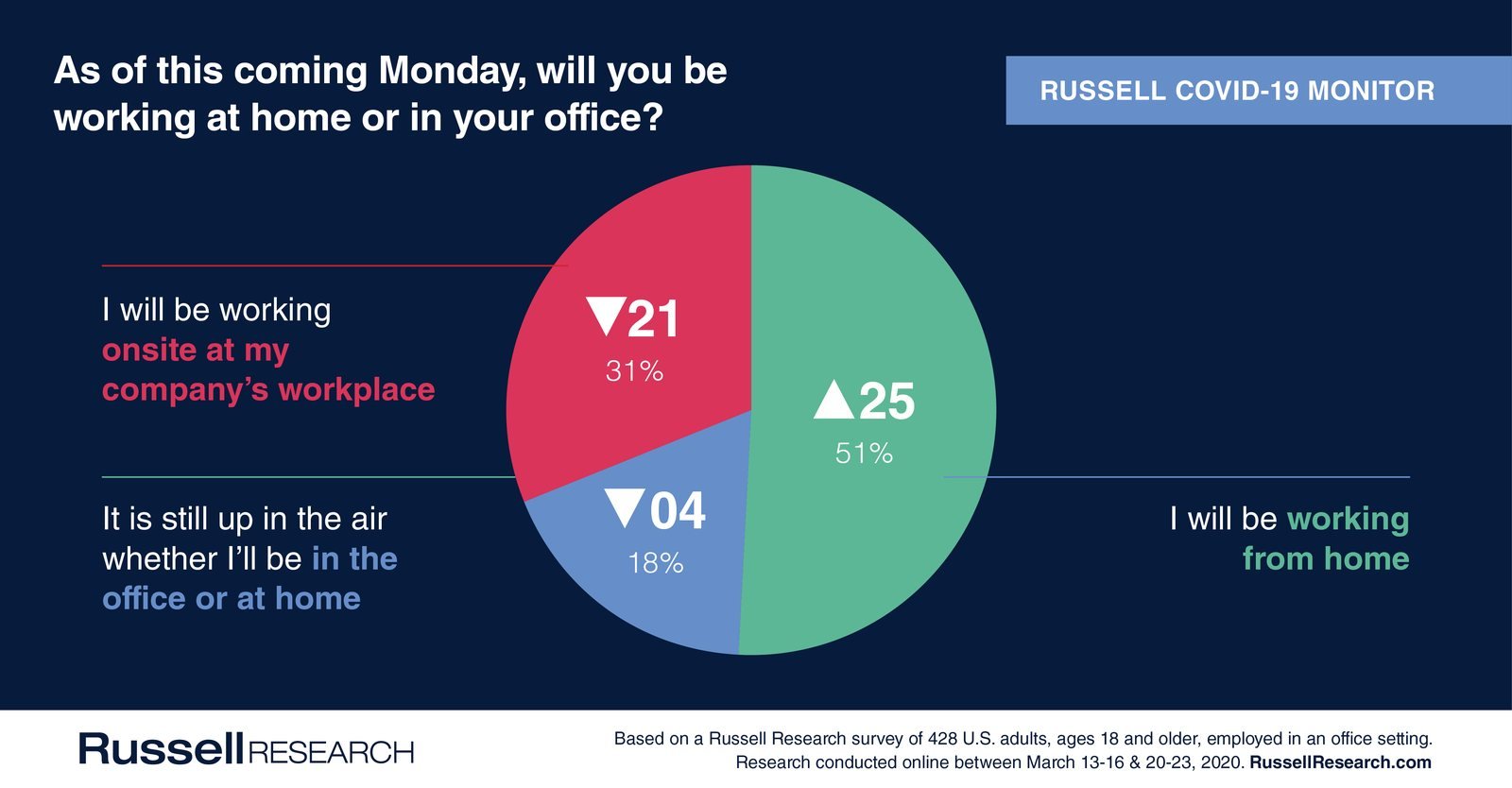 26% → 51% – Working from home
22% → 18% – Up in the air whether I'll be in the office or at home
52% → 31% – Working onsite at my company's workplace
WFH Benefits Show Signs of Losing Their Luster After Only A Week
The single greatest benefit continues to be "avoiding the commute" (56%). However, there was a 7 point drop over a week ago in Americans viewing this as a benefit. Additionally, significantly fewer Americans agree that WFH offers them "lower level of stress" (-20ppts) and "fewer distractions" (-11ppts.)
"Saving money" and "your own coffee" are the only two benefits that have increased.
Interestingly, only 3% of Americans perceive working from home provides them with "safety/not getting sick."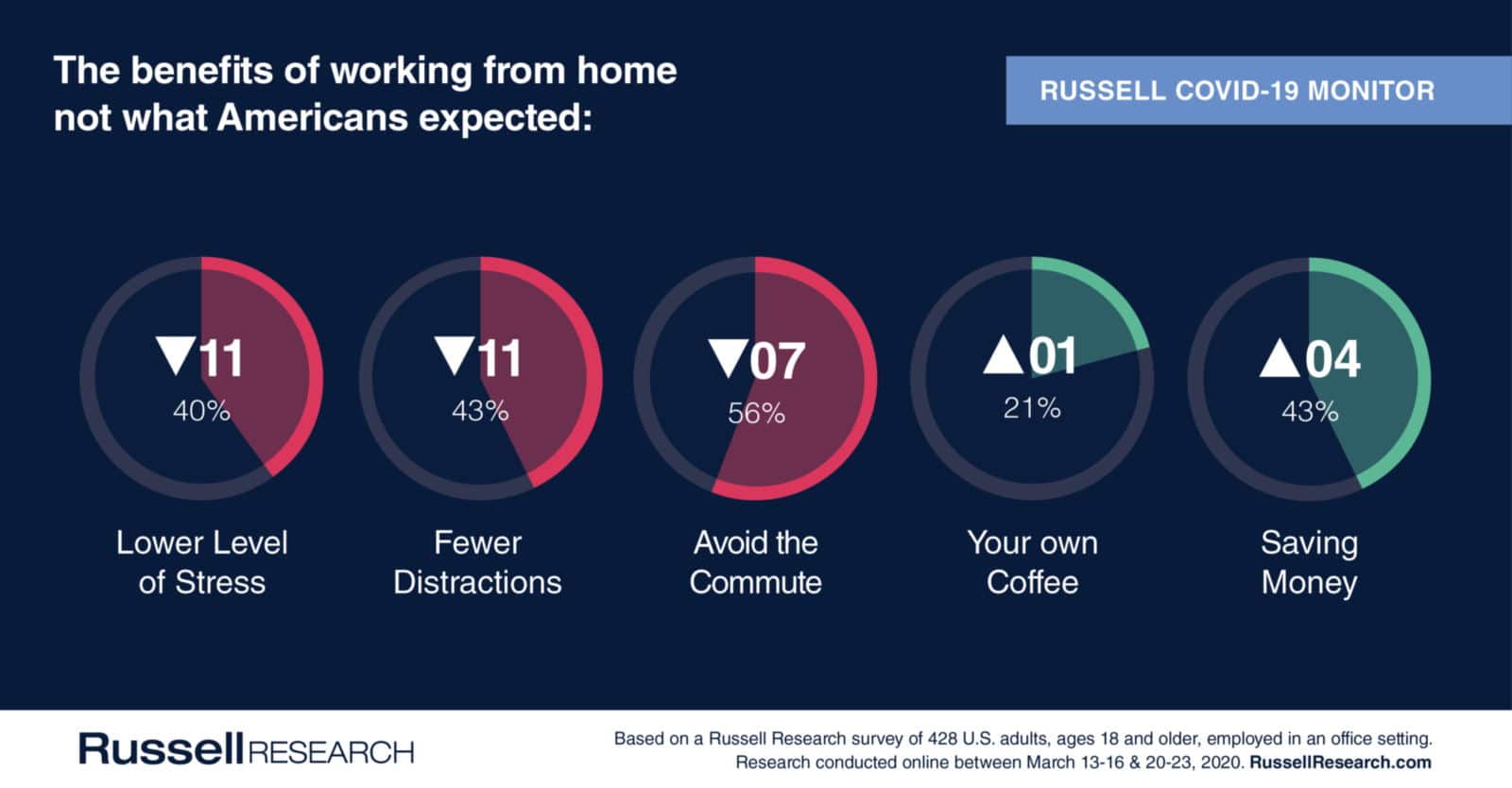 ↓

11 ppts – Lower level of stress (40%)

↓

11 ppts – Fewer distractions (24%)

↓

7 ppts – Avoiding the commute (56%)

↓

5 ppts – Your own food (28%)

↓

4 ppts – Better work-life balance (30%)

↓

3 ppts – Work wherever you want (30%)

↓

3 ppts – Wear whatever you want (50%)

↓

3 ppts – Supervisor is not hovering over me (25%)
New – Safety/not getting sick/social distancing (3%)

↑

4 ppts – Saving money (43%)

↑

1 ppts – Your own coffee (20%)
Role of Coworkers Is Shifting From Functional to Emotional
"The mayhem at home" is becoming an increasing drawback, up 7 points over the past week. And while Americans "require coworkers' input to complete work" less (down 5 points), emotionally, they are feeling "lonelier without coworkers" over time (up 6 points).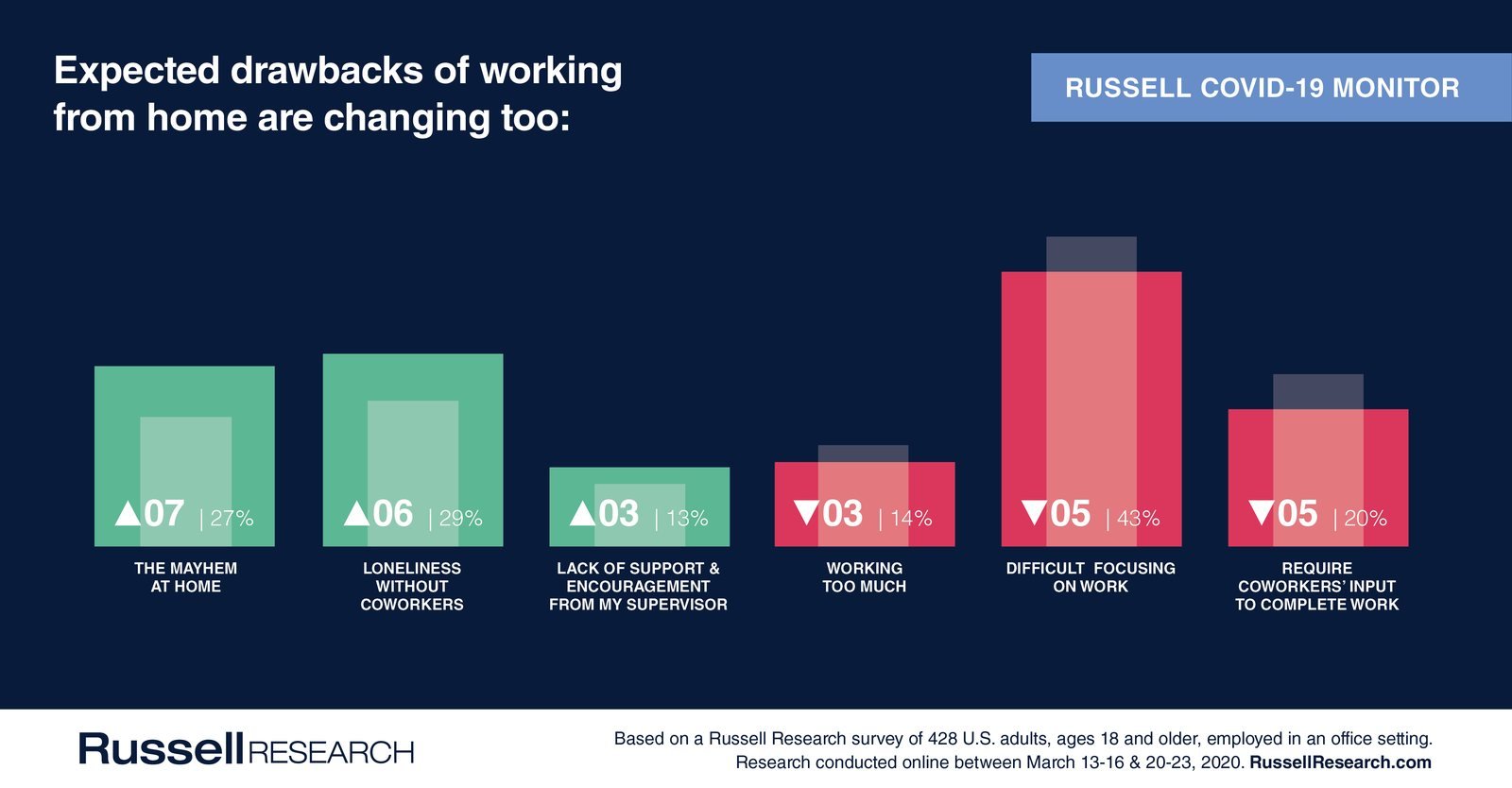 ↑

7 ppts – The mayhem at home (27%)

↑

6 ppts – Loneliness without coworkers (29%)

↑

3 ppts – Lack of support and encouragement from my supervisor (13%)

↑

1 ppts – Constant interruptions (30%)
NEW – Unable to work from home (2%)
NEW – No pay/less pay (1%)

↓

2 ppts – Free coffee (6%)

↓

2 ppts – More difficult to prioritize work (29%)

↓

3 ppts – Working too much (14%)

↓

5 ppts – Difficulty focusing on work (43%)

↓

5 ppts – Require coworkers' input to complete work (20%)