COVID-19 & Its Impact on Everyday Life: April 10 – 13, 2020
For the first time in six weeks of tracking, there has a substantial positive shift in the perception of the pandemic's trajectory. The concern about the pandemic remains near universal, however far more Americans now believe that the situation is improving. Additionally, while the most widely reported emotions continue to be negative, they are less prevalent than reported previously.
Behavior has not yet followed these changing attitudes. While Americans continue to replace pre-pandemic behaviors with safer alternatives, it appears that people are eager to return to "normalcy" in their lives. The percentage of Americans who can't wait to eat out, travel, and go to a shopping mall are at all-time highs.
Brand changes are becoming more commonplace over the course of the pandemic. We now see one in seven Americans reporting they've switched brands during the pandemic, with nearly one in ten having discovered a new brand which they will use for the foreseeable future.
Russell Research has interviewed over 6,000 Americans over the past six weeks about their coronavirus concerns and its impact on everyday behavior. Our COVID-19 Monitor will evolve in the coming weeks as the situation changes.
Below are our key findings from April 10-13, 2020.
Views of the Current Situation
Concern remains near universal. Between April 10-13, more than nine in ten Americans (92%) indicated they are concerned about coronavirus, compared to 92% from one week prior.
Americans are more optimistic about the trajectory of the COVID-19. Less than one-half of Americans (47%) believe the current situation is getting worse, compared to 93% last week. Further, the percentage of Americans who believe the situation is getting better tripled, increasing from 10% last week to 30% this week.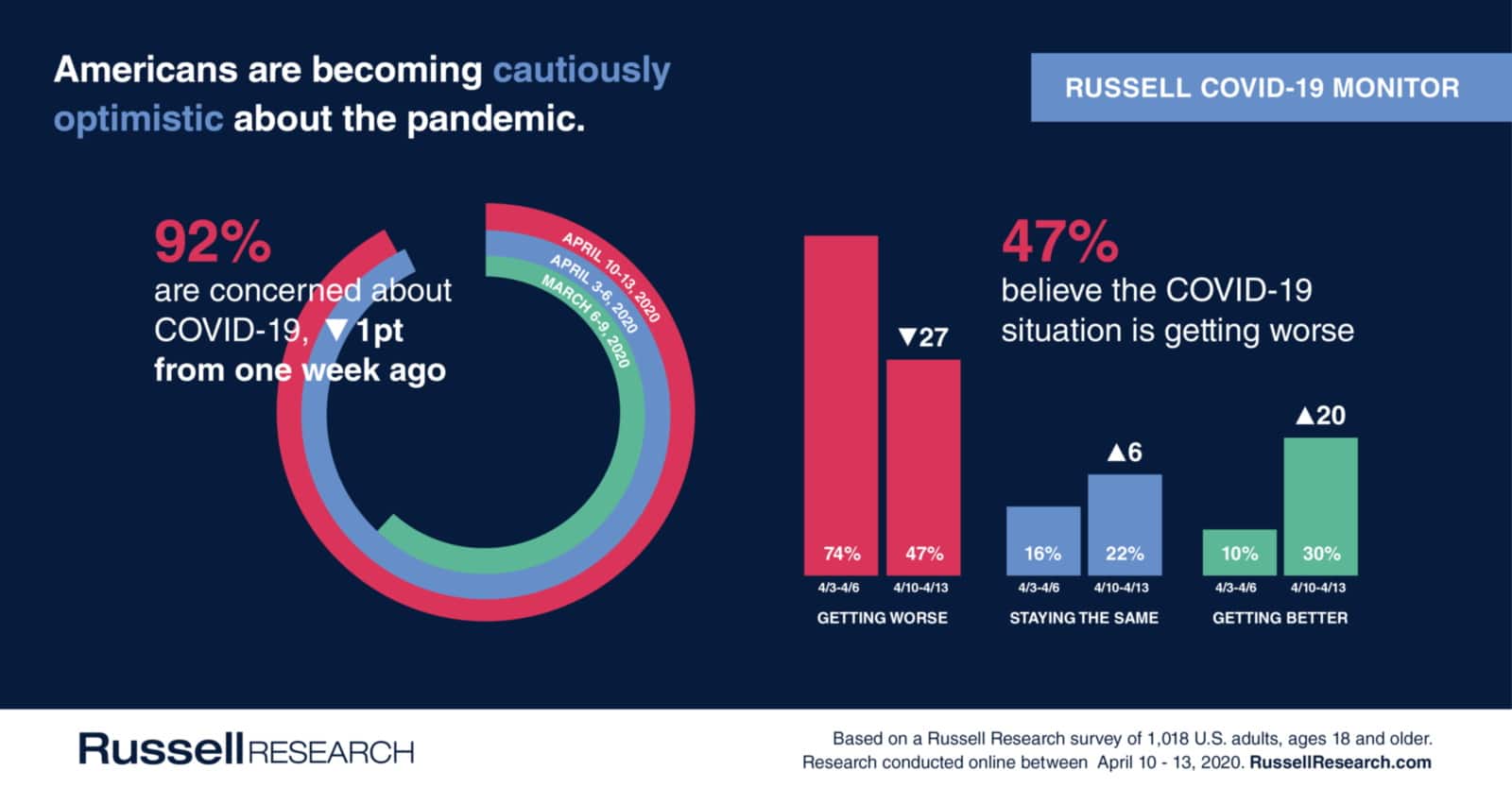 Emotion
The perceived improvement of the current situation is beginning to minimize negative emotions while a growing percentage feel thankful.
Many of the most widely reported negative emotions over the past month have started to become less prevalent among Americans.

44% of Americans experienced stress during the past week (-2 percentage points vs. last week)
40% were anxious during the past week (-5)
39% were cautious during the past week (-8)
38% felt uncertain during the past week (-7)
34% were frustrated during the past week (-3)

Positive emotions continue to be less common (58% vs. 86% who experienced a negative emotion). However, 38% of Americans felt thankful during the past week, compared to 33% last week, and 27% three weeks ago.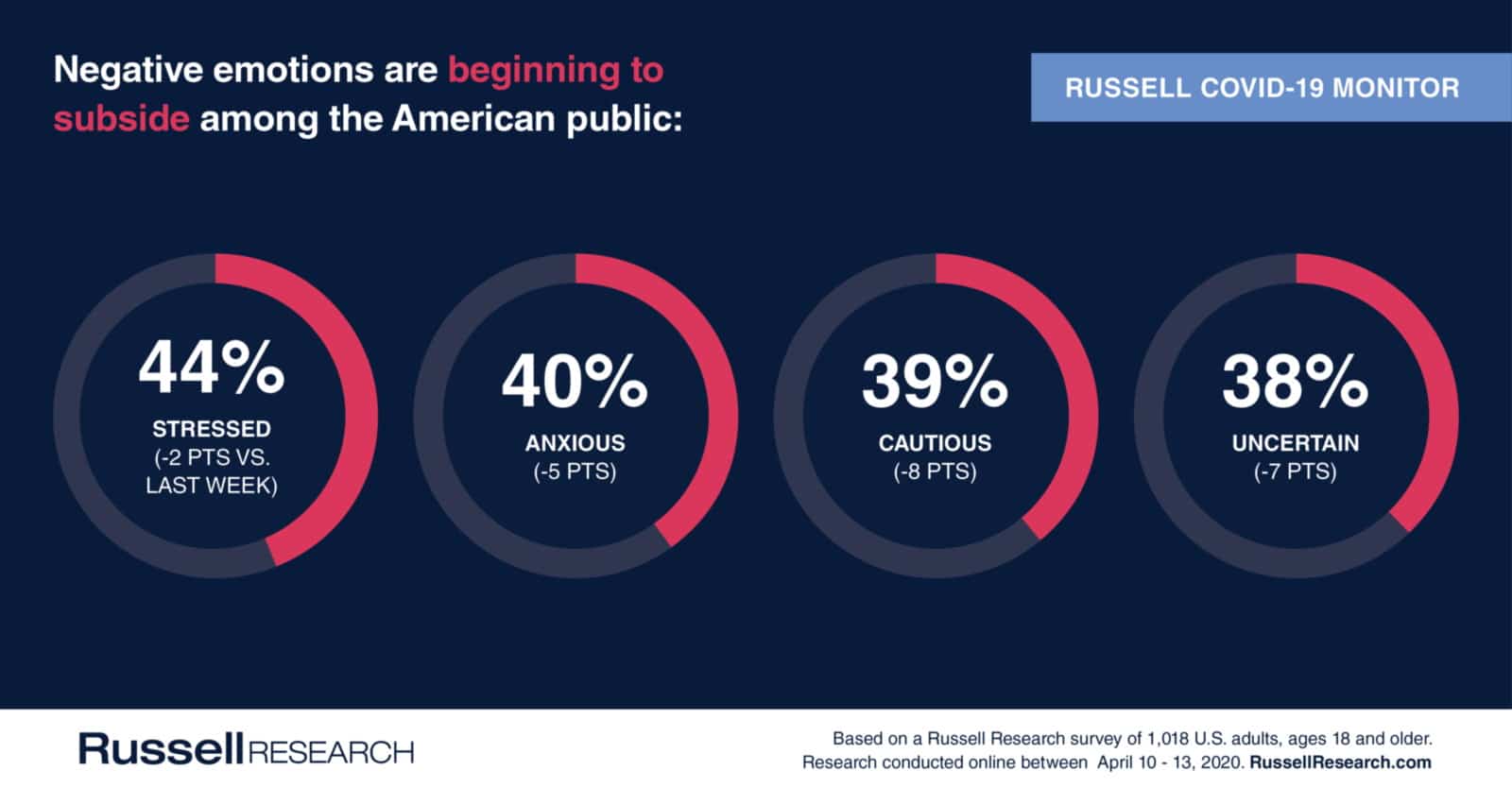 Impact on Behavior
The perceptual shifts in the pandemic's trajectory have not prompted a transition back to pre-coronavirus behavior.
56% of Americans are

less

likely to go to a large store (no change vs. last week)
40% are less likely to go to the convenience store (-1)
33% are less likely to go to the grocery store (-1)
23% are less likely to go to a pharmacy/drug store (-2)
62% of Americans are

more

likely to order online (-2)
50% are more likely to stock up on household items (no change)
48% are more likely to order takeout or delivery (-1)
35% are more likely to have groceries delivered (no change)
22% are more likely to have medication delivered (-1)
Future Behavior
Americans increasingly "cannot wait" to return to a range of everyday and special activities.
61% of Americans cannot wait to dine at a restaurant (+4 percentage points vs. last week)
60% cannot wait to visit family and friends (no change)
59% cannot wait to travel (+4)
32% cannot wait to go to a shopping mall or outlet center (+6)
31% cannot wait to go to the movies (-1)
25% cannot wait to go to a coffee shop or café (+2)
21% cannot wait to go to a sporting event (+4)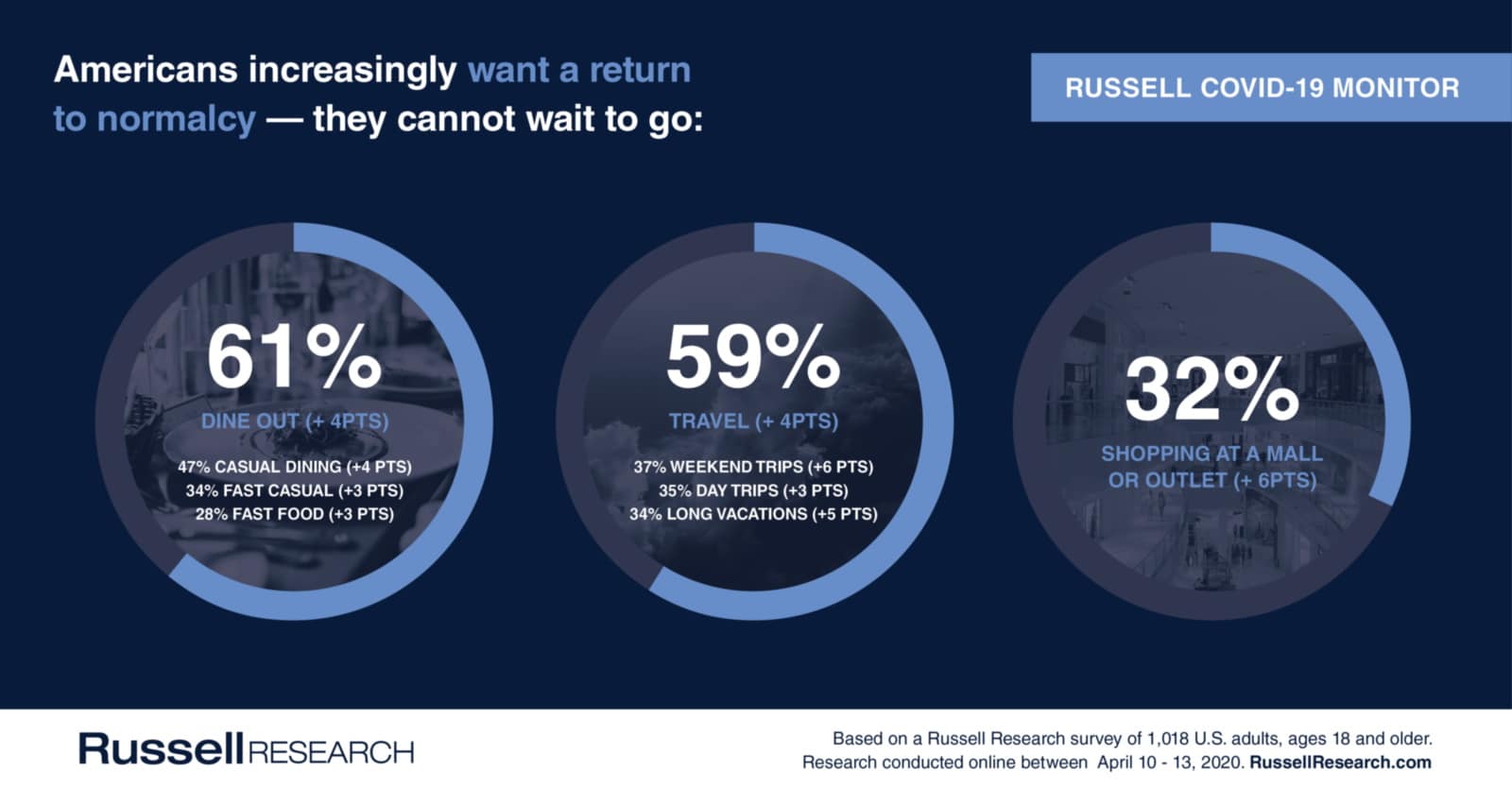 Impact on Brand Perceptions
Brand switching and opinion changes are gradually becoming more common among Americans.
14% of Americans have

positively

changed their opinion about a brand due to their actions during the pandemic (+4 percentage points vs. last week)
7% of Americans have

negatively

changed their opinion about a brand due to their actions during the pandemic (no change)
15% of Americans have

switched

one or more brands they regularly use during the pandemic (+2)
9% of Americans have

discovered

a new brand which they will continue to use in the future (+1)